Oh, hey there. Regina here. Talking about one of the most exciting (to me) forms of content ever. Ever, ever.
Online workshops.
If you want to get into info products, or build your email list, or create content that you can re-package as an opt-in or bonus, or show yourself as a coach or expert on a topic you're passionate about, there are a few super valid reasons to start with workshops. Tons of epic reasons, actually.
Okay, 8, to be specific.
Hosting workshops . . .
1. Helps people start to see you as a teacher and an expert in your niche. A great workshop topic, attractive graphics to support your event, a simple signup process, and a helpful agenda/worksheet to go along with it and you will seem professional, experienced, and amazing.
This impression goes a long way whether you're providing services, trying to line up speaking opportunities, or creating information products, membership programs, or coaching/mastermind groups.
2. Causes you to create actionable worksheets, tips, and content so that you can see if you even have enough material, information, etc. to create a full course/program out of your topic, or if it might be better as a book, or if it should be a one-on-one service, or be left alone as a workshop, or abandoned completely, or done as a collaboration, or made into a group program, etc.
3. Gives you tons of packaging options. You can use your workshop as a free opt-in event conducted live, a free opt-in conducted live and then packaged as an evergreen opt-in or product bonus, a free opt-in conducted live and then sold afterward, or a paid product . . . among other options.
4. Allows you to test out EVERYTHING. It would be horrible to waste time (or money) developing something as intense as a course or book that turns out to not actually work for you or your audience. Developing worksheets, slides, and a script or bullet points of info for your workshop will help you figure out if the content works for you, of course, but actually presenting the information to your audience will allow you to get a real understanding of how it works for them. Was it too long? Too short? Too hard? Too confusing? Just right? Etc.
5. Helps you create a larger product or series as you go. Instead of planning one major resource (think course, online school, etc.) and leaving it looming over you, you're able to plan it and create small sections/modules of it as workshops. #Brilliant
6. Gives you an additional price point to serve your audience with, as well as a different level of intensity/urgency of information—many times, a workshop will be more actionable and comprehensive than a blog post, eBook, or other type of resource.
Serving your audience at varying levels of need (amount of information, price, learning style, etc.) is a way to show you care and to impress your ideal people.
7. Allows you to have a more personal, more in-depth Q+A session with your audience (than sending a survey via email or some such method). It's more valuable for them and more valuable for you. They get their questions answered live and you get way more feedback or input that you can apply to a paid product or service. If you listen to the questions and chat happening during a workshop, you may literally get ideas for the exact words to use and the exact way to frame your paid products to build a better item and get better sales results.
8. Gets you used to creating videos. Whether you decide to screencast, share presentation slides, or turn the camera on yourself to present, you will get used to creating videos, editing, getting good sound, being more and more comfortable on screen/audio, hosting videos, and more.
If you decide to create full courses, or make videos a significant part of your content strategy, then completing workshop after workshop will only make you more awesome at creating videos and courses in general.
---
The 7 Types of Online Workshops
Now. Let's borrow a bit of material from our epic 8-day email course on creating an information product and sales funnel from scratch and talk about the seven types of workshops you can use to help drive awareness and sales of your product, build an audience, or slow-build a larger course or product. And by the way, if the word "workshop" doesn't work for you, swap it out with class, masterclass, training, or something else that resonates.
---
1. Bootcamps
A multi-day, multi-session bootcamp is a great way to both build a community around a specific topic or goal and teach something that requires more time than a single workshop might allow. Bootcamps are also a clever way to promote a product that is on the expensive side for your audience. Why? Because having multiple events, a community, and extra chances to see how helpful you are gives people additional time to make an investment decision and more reasons to feel good about that decision.
---
2. Online Workshops
These are so much more than your typical webinar. Think of classes that last 2+ hours and come with worksheets, videos, or some type of additional resources.
You can use online workshops to increase signups to your email list, to make a profit, or to promote an additional paid product/service. I generally structure most of my workshops as "information only," but if you spend hours training people for free, and several hours preparing for that training and creating epic materials, it's certainly acceptable that you'd want to pitch a product during that time.
To handle selling in online workshops, I'd recommend:
letting people know ahead of time that you'll be telling them about a specific product during the workshop–but that you won't take up too much time on it
starting off the workshop strong, without selling
gradually bringing in materials and giving your audience access to things that are exclusive to your product
explaining your product and any special deal on it toward the end of your workshop
opening up a Q+A at the very end where people can ask questions about the workshop material or your course
---
3. Q+As or Office Hours
You can host live Q+A sessions (or even Periscopes) covering topics that are a part of your expertise to help people, show a more personal side, or lightly hint and direct people towards one of your services or products.
You can answer questions that were previously submitted and/or answer questions asked during the broadcast. You can prepare worksheets or note sheets ahead of time or leave the event entirely open to whatever direction it may go in.
Hint: If you are using Q+As to help promote a product, they are super effective when a product is about to launch or when the price of the product is going up soon. This can cause the right kind of excitement and urgency with your audience. Example: You have a product called Get Growing (How to Grow Your Own Produce, Even With a Small Backyard), and you have an office hours session called The Grow Your Own Produce Q+A in which you let people know that the price of Get Growing is going up in 7 days, but you also answer tons of questions on growing your own produce.
---
4. Live Trainings
When you want to show software, tips + tricks, or a specific method/process, a targeted live training may be your best bet. These will likely be shorter than your 2+ hour workshops, and they can be some of your most popular events.
I've done live trainings on things such as:
designing Instagram Stories templates in Keynote
teaching our "Instagram as a second website" framework
creating a simple sales funnel for an info product
and more
What types of things can you show your audience how to do, or how to do better, in 30 to 90 minutes?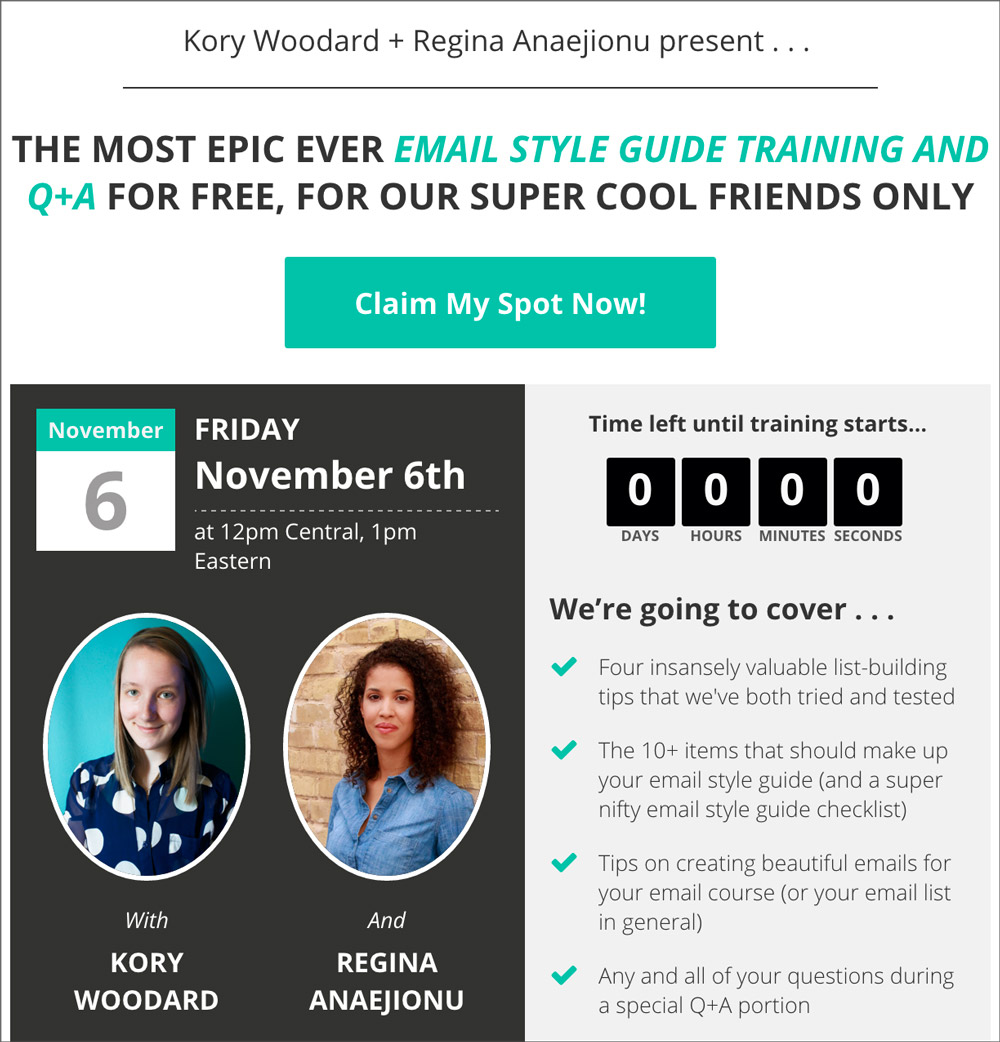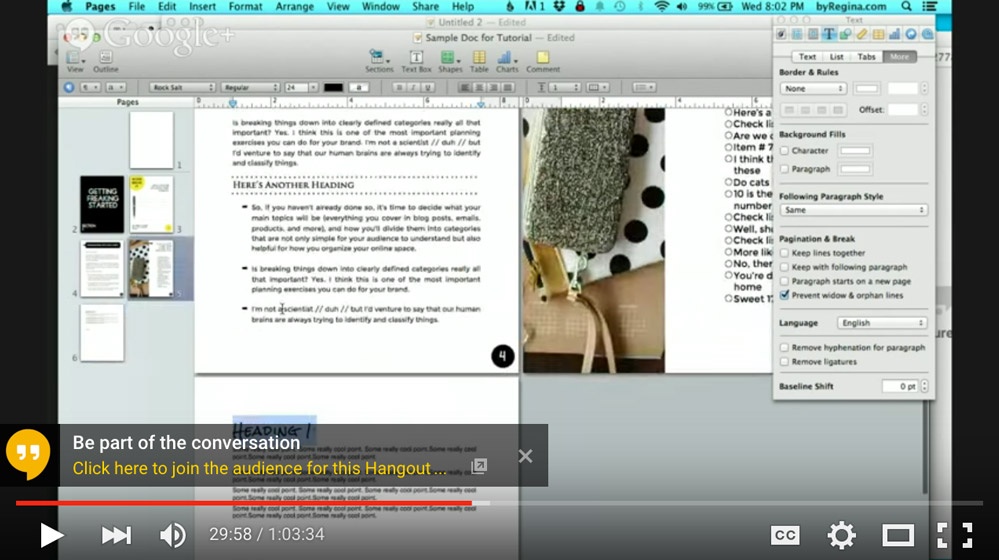 Here are two things to keep in mind about your live trainings:
Often your live trainings can be smaller portions of a larger course or series. You can do them to help you build your content over time.
Even if you have a small audience, or absolutely no live audience, making your trainings happen anyways means you'll have epic stuff to fill your YouTube channel with or use for opt-ins to your email list. One of my most watched videos (the tutorial shown above), has gotten 99% of its views after the original air date. You can create content that does wonders for your brand even if no one shows up to the original thing. Actually, there's less pressure that way.
---
5. Workshop Series
Think of a workshop series as a collection of online workshops or live trainings all focused around the same topic (getting started in home gardening, growing your email list, etc.) or as a specific category/event that happens on a schedule, but topics vary.
This is how Jamie of Spruce Road does her Lunch & Learn series. The topics vary, the co-hosts vary, but they generally all have something to do with design—which is likely what Jamie wants to be known for and is definitely what she is an expert in.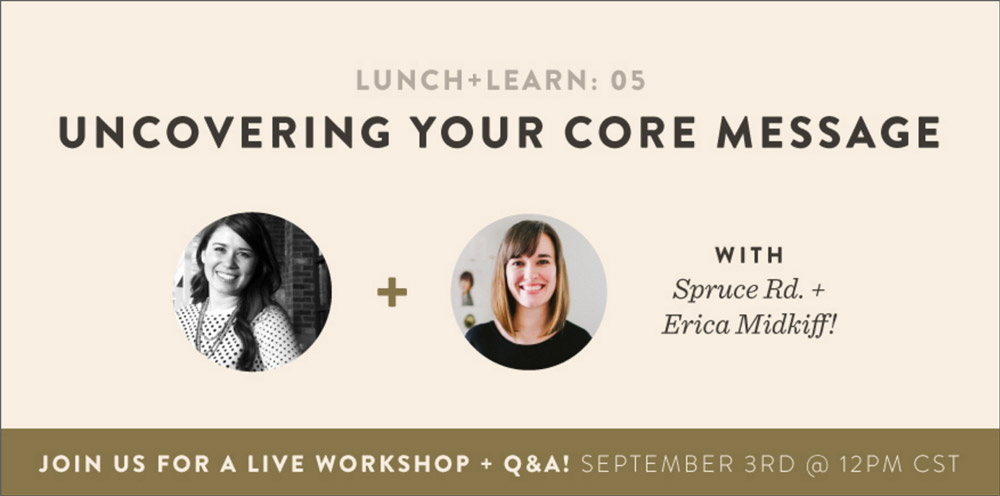 Would a recurring series help you build your list, get consistent with creating content, help you meet cool collaborators, and be a quality way you could regularly promote your paid materials?
Which style of workshop seems to fit your personality best so far? Which one do you think would be best for your audience?
---
6. Webinars
Short, informative live workshops (typically set up to promote specific products) are called webinars. Often webinar hosts present the audience with a limited-time offer on a course, service, book, or bundle of items.
Webinars can be educational and fun, and often include presentation slides and a Q+A portion. Webinars may or may not come with worksheets and additional resources, but for the most part, they are set up to be effective sales venues for a product, so I feel they are often planned with the business owner's goals in mind more so than audience goals.
If you choose to opt for a webinar (which is not a bad thing if it's the solution that makes the most sense for you), try to think about what your audience is gaining from the experience and build in things they can appreciate. Even if they don't buy from you or opt to go further with your brand, what can they take away from your webinar?
---
7. Live Mobile Broadcasts (such as Instagram Live, Facebook Live, etc.)
If you're looking for a more informal broadcast than the ones above, why not break into video using Instagram or another live video app? You can use these for:
Q+As
Short tutorials
Daily/weekly tips
Sharing new products and giving demos
Creating something live
Testing out new content/product ideas
Getting feedback
Sharing inspiration or meaningful thoughts
and more
You could also structure any of the workshop types above as an Instagram Live broadcast or Twitter Spaces room.
It would certainly be less formal than a workshop hosted on Zoom, Livestream, or another similar tool, but maybe less formal is what you want to go for.
You could use mobile Lives to:
get practice presenting
get real-time feedback and interaction
help people start to see you as a teacher/coach
create videos you could repackage or use elsewhere
So, which type of workshop do you want to start with?